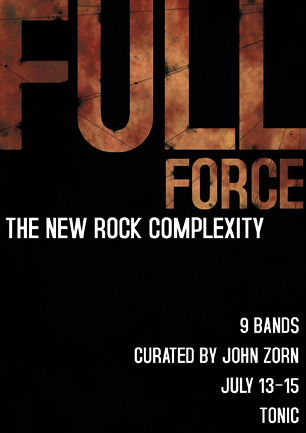 Please Join us for FULL FORCE: The New Rock Complexity Festival curated by John Zorn and presented at Tonic (
www.tonicnyc.com
).
Tonic
107 Norfolk Street
(between Delancey & Rivington)
(F to Delancey or the JMZ to Essex)
Info line: 212-358-7501 / www.tonicnyc.com
Doors open half an hour before each show, unless otherwise noted.
FULL FORCE : The new rock complexity festival curated by John Zorn. July 13 - 15 (Thursday - Saturday).
�This festival presents an exciting new generation of musicians who are expanding preconceived concepts of form and content in the rock idiom. Inspired by a wide variety of influences and using elements of advanced composition, improvisation, noise, rhythms and harmony, these groups bring a stimulating new energy to the musical firmament. Full Force hopes to shed new light on this exciting community of young musical explorers dedicated to complex, compositional rock.� - John Zorn

Schedule at a glance -
Thur, July 13 - Jerseyband (8pm) - Capital M (9pm) - Rashanim (10:30pm)
Fri, July 14 - Newspeak (8pm) - Time of Orchids (9pm) - Stay Fucked (10:30pm)
Sat, July 15 - 7pm round table - Larval (8pm) - Electric Kompany (9pm) - Kayo Dot (10:30pm)
For audio samples or more info on these bands please go to:
http://groups.myspace.com/newrockcomplexity
xxxxxxxxxxxxxxxxxxxxxxxxxxxxxxxxxxxxxxxxxxxxxxxxxxxxxxxxxxxxxxxxxxxxxxxxxxxx