---
Record companies, artists and publicists are invited to submit CDs to be considered for review. Send to: Jerry Bowles, Editor, Sequenza 21, 340 W. 57th Street, 12B, New York, NY 10019
---
Latest Posts
---
Antheil, Lauridsen, Martinu et al
Northern Lights: Nielsen, Rasmussen, Maxwell Davies
Der Schatz, Max Deutsch, cpo
Music from the East, the West, and Some Places You Never Want to Go
All-Americans
Bang on a Can All-Stars, Bang on a Can Meets Kyaw Kyaw Naing
David's Picks of the Week: 20th Century Piano Extravaganza
Kristian Blak, Úr Hólminum, Hogboy, Vienne la nuit, Shaman
Osvaldas Balakauskas: Requiem
A Child of our Time
Record companies, artists and publicists are invited to submit CDs to be considered for our Editor's Pick's of the month. Send to: Jerry Bowles, Editor, Sequenza 21, 340 W. 57th Street, 12B, New York, NY 10019
---
Archives
---
Saturday, December 18, 2004
Saturday, December 25, 2004
Friday, December 31, 2004
Wednesday, January 05, 2005
Monday, January 10, 2005
Thursday, January 13, 2005
Thursday, January 20, 2005
Sunday, January 23, 2005
Monday, January 24, 2005
Saturday, January 29, 2005
Wednesday, February 02, 2005
Thursday, February 03, 2005
Monday, February 07, 2005
Tuesday, February 08, 2005
Friday, February 11, 2005
Monday, February 14, 2005
Wednesday, February 16, 2005
Tuesday, February 22, 2005
Monday, February 28, 2005
Sunday, March 06, 2005
Monday, March 07, 2005
Wednesday, March 09, 2005
Sunday, March 13, 2005
Friday, March 18, 2005
Monday, March 28, 2005
Saturday, April 02, 2005
Monday, April 11, 2005
Sunday, April 17, 2005
Tuesday, April 19, 2005
Monday, April 25, 2005
Monday, May 02, 2005
Monday, May 09, 2005
Tuesday, May 17, 2005
Tuesday, May 31, 2005
Monday, June 06, 2005
Thursday, June 16, 2005
Sunday, June 19, 2005
Sunday, July 10, 2005
Wednesday, July 13, 2005
Sunday, July 24, 2005
Friday, July 29, 2005
Monday, August 08, 2005
Monday, August 22, 2005
Wednesday, August 24, 2005
Friday, September 16, 2005
Sunday, September 25, 2005
Tuesday, October 04, 2005
Tuesday, October 18, 2005
Monday, October 24, 2005
Tuesday, November 01, 2005
Monday, November 07, 2005
Saturday, November 12, 2005
Wednesday, November 16, 2005
Tuesday, November 29, 2005
Friday, December 16, 2005
Monday, January 09, 2006
Thursday, January 12, 2006
Thursday, January 19, 2006
Tuesday, January 24, 2006
Thursday, February 02, 2006
Monday, February 13, 2006
Wednesday, February 15, 2006
Wednesday, March 01, 2006
Sunday, March 19, 2006
Sunday, March 26, 2006
Friday, March 31, 2006
Sunday, April 09, 2006
Monday, April 10, 2006
Thursday, April 20, 2006
Friday, April 21, 2006
Thursday, May 11, 2006
Thursday, May 18, 2006
Saturday, May 20, 2006
Friday, June 02, 2006
Tuesday, June 06, 2006
Friday, June 16, 2006
Monday, June 19, 2006
Sunday, June 25, 2006
Monday, June 26, 2006
Monday, July 10, 2006
Thursday, July 13, 2006
Thursday, July 20, 2006
Friday, July 21, 2006
Sunday, July 23, 2006
Thursday, August 03, 2006
Wednesday, August 09, 2006
Tuesday, May 31, 2005
Mostly Naxos
N.B. Ratings are from 0-11: trust me, you want to be on the "11" side of things.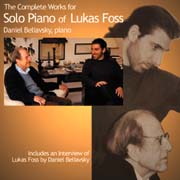 The Complete Works for Solo Piano of Lukas Foss
Lukas Foss
Piano, Daniel Beliavsky
Sonatabop.com
Daniel Beliavsky actually beat out Scott Dunn by a nose as the first pianist to record Foss's complete works for solo piano. Beliavsky marches through the pieces in chronological order, and an interview with the composer caps off the tribute. While Dunn's performances are more rhythmically convincing (and better recorded) than Beliavsky's, some might prefer the latter's edgier, more spontaneous readings. Still, I remain unconvinced that composing on the subway was a successful endeavor for Mr. Foss. Rating: 7.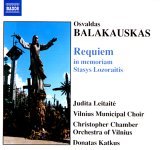 Requiem in memoriam Stasys Lozoraitis
Osvaldas Balakauskas
Naxos
Balakauskas (b.1937) is a Lithuanian composer, and Lozoraitis was a politician involved in Lithuania's independence movement who died suddenly in 1994. The Requiem is filled with wide diatonic harmonies and distinctive moments of punctuated, appealing lyricism. Nice instrumental effects – a harpsichord, high string harmonics, a bass clarinet – abound as well, but somehow the work can't quite shake its strangely pedestrian feel. It's not helped by a recording that makes the choir and instrumentalists sound like they're in different rooms. Worth checking out though. Rating: 7.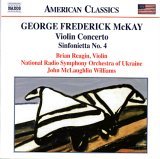 Violin Concerto and Sinfonietta No.4
George Frederick McKay
Naxos
The "dean of Northwest composers" gets quite a tribute on this release. Violinist Brian Reagin, conductor John McLaughlin Williams, and the National Radio Symphony Orchestra of Ukraine dive into four of McKay's (1899-1970) larger orchestral works with commitment and musicality to spare. Naxos returns the favor with excellent recording quality. The music itself isn't the most imaginative stuff – we're talking neo-Mendelssohnian sonata form here – but it's never less than fully professional and well felt. Rating: 8.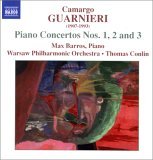 Piano Concertos 1-3
Mozart Camargo Guarnieri
Naxos
A must-have for enthusiasts of twentieth-century Brazilian music. Guarnieri (1907-1993) is apparently the "most important Brazilian composer after Villa-Lobos," and one can't fault him for a lack of fire or reluctance to conjure a lovely tune. The music does get lost at times and descends to empty bombast and drippy sentimentality. But the fiercely committed performers, led by pianist Max Barros, give it all they got, and one finds oneself gradually giving in to Guarnieri's beguiling sounds. Look out for a cameo appearance by the Concerto in F. Rating: 8.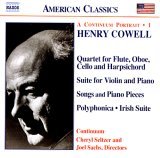 Continuum Portrait Vols. 1-2
Henry Cowell
Naxos
Continuum presents a two-volume survey of instrumental, chamber, and vocal music by American composer, musical innovator, and all-round go-getter Henry Cowell (1897-1965). Cowell's music bears all the qualities of a good composition student: unfailingly curious, enthusiastic, and ready to try anything new. On these CDs, the compositions range from the irreverently faux-Baroque, to the furiously brash and experimental, to the unabashedly folkish and nostalgic. None of it's bad, but most of it feels pretty quaint: rarely do his ravings feel truly uninhibited, and his more traditional side seems more meek than inspired. Still, the range of Cowell's activities and the breadth of his interests remain an inspiration. Like a good composition student, even the best of teachers can learn from him. Rating: 8.