---
Record companies, artists and publicists are invited to submit CDs to be considered for review. Send to: Jerry Bowles, Editor, Sequenza 21, 340 W. 57th Street, 12B, New York, NY 10019
---
Latest Posts
---
Osvaldas Balakauskas: Requiem
A Child of our Time
ProMusica Chamber Orchestra/American Originals
Two from CPO: Karol Rathaus and Richard Wetz
Knudåge Riisager, Piano Works
Esa-Pekka Salonen: Wing on Wing
Crabtree, Frizzo, Johnson, and Price, Resonance: Chamber Works – Volume 1
Dunedin Consort/The Peoples Mass
Phillip Schroeder, Music for Piano
Daniel Lippel: Resonance
Record companies, artists and publicists are invited to submit CDs to be considered for our Editor's Pick's of the month. Send to: Jerry Bowles, Editor, Sequenza 21, 340 W. 57th Street, 12B, New York, NY 10019
---
Archives
---
Saturday, December 18, 2004
Saturday, December 25, 2004
Friday, December 31, 2004
Wednesday, January 05, 2005
Monday, January 10, 2005
Thursday, January 13, 2005
Thursday, January 20, 2005
Sunday, January 23, 2005
Monday, January 24, 2005
Saturday, January 29, 2005
Wednesday, February 02, 2005
Thursday, February 03, 2005
Monday, February 07, 2005
Tuesday, February 08, 2005
Friday, February 11, 2005
Monday, February 14, 2005
Wednesday, February 16, 2005
Tuesday, February 22, 2005
Monday, February 28, 2005
Sunday, March 06, 2005
Monday, March 07, 2005
Wednesday, March 09, 2005
Sunday, March 13, 2005
Friday, March 18, 2005
Monday, March 28, 2005
Saturday, April 02, 2005
Monday, April 11, 2005
Sunday, April 17, 2005
Tuesday, April 19, 2005
Monday, April 25, 2005
Monday, May 02, 2005
Monday, May 09, 2005
Tuesday, May 17, 2005
Tuesday, May 31, 2005
Monday, June 06, 2005
Thursday, June 16, 2005
Sunday, June 19, 2005
Sunday, July 10, 2005
Wednesday, July 13, 2005
Sunday, July 24, 2005
Friday, July 29, 2005
Monday, August 08, 2005
Monday, August 22, 2005
Wednesday, August 24, 2005
Friday, September 16, 2005
Sunday, September 25, 2005
Tuesday, October 04, 2005
Tuesday, October 18, 2005
Monday, October 24, 2005
Tuesday, November 01, 2005
Monday, November 07, 2005
Saturday, November 12, 2005
Wednesday, November 16, 2005
Tuesday, November 29, 2005
Friday, December 16, 2005
Monday, January 09, 2006
Thursday, January 12, 2006
Thursday, January 19, 2006
Tuesday, January 24, 2006
Thursday, February 02, 2006
Monday, February 13, 2006
Wednesday, February 15, 2006
Wednesday, March 01, 2006
Sunday, March 19, 2006
Sunday, March 26, 2006
Friday, March 31, 2006
Sunday, April 09, 2006
Monday, April 10, 2006
Thursday, April 20, 2006
Friday, April 21, 2006
Thursday, May 11, 2006
Thursday, May 18, 2006
Saturday, May 20, 2006
Friday, June 02, 2006
Tuesday, June 06, 2006
Friday, June 16, 2006
Monday, June 19, 2006
Sunday, June 25, 2006
Monday, June 26, 2006
Monday, July 10, 2006
Thursday, July 13, 2006
Thursday, July 20, 2006
Friday, July 21, 2006
Sunday, July 23, 2006
Thursday, August 03, 2006
Wednesday, August 09, 2006
Saturday, April 02, 2005
Kristian Blak, Úr Hólminum, Hogboy, Vienne la nuit, Shaman
Tutl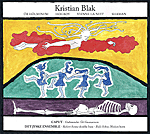 Ever heard of the Faroe Islands? Neither had I, but judging from
Kristian Blak's
music it must be an entrancing place. Blak, a transplant to the islands (which are located in the North Atlantic and home to 45,000 inhabitants), infuses his works with place on multiple levels. On one extreme lie works like his "Concerto Grotto," written to be performed in a particular cave. The works on
Úr Hólminum
occupy the other end of the spectrum, but are nonetheless thoroughly evocative.
The CD opens with the title piece, written for
sinfonietta
. The piece is, according to the liner notes, "derived from the contours of landscapes." Fortunately, Blak derives inspiration from nature in a way that largely avoids the pastoral sound composers so often favor. Blak makes this abundantly clear with a noisy, scattered opening. From here, the texture pauses, ebbs, and flows, but refuses to relent until the low strings enter with a calm melody. Other instruments experiment with this new feel until a new timbre, which sounds like tapping on the wood of the piano, emerges. The tapping is joined by other ostinati on one pitch, reinterpreting the restfulness of the preceding melodic section. Development over these ostinati and similar repeated figures continues until the entire orchestra coalesces to drive the work home in unison. Blak's departure from the standard method of presenting landscapes sonically, coupled with some inventive writing, keeps "Úr Hólminum" fresh.
Blak mines similar symphonic territory in the next two pieces on the CD, though in concerto form. The first, "Hogboy," is for double bass and chamber ensemble. Blak relates the Scottish legend of Hogboy, a ghost who longs to interact with the girls who come to hear him sing. Blak effectively uses the registral difference between the bass and the rest of the ensemble to convey the physical separation between the ghost and the girls. "Hogboy" is also remarkable for some slightly jazzy counterpoint that displays some of Blak's musical roots. The second concerto, "Vienne La Nuit," replaces the double bass with the horn and is based on an Appollinaire poem. Both works use their solo instruments similarly. The bass and horn flow in and out of the ensemble, deriving their prominence more from their independence than from the dominance of their material or solo sections. Though both works are good listens, they don't quite capture the energy of "Úr Hólminum."
"Shaman," which closes the CD, is the most ambitious work included. The music here invokes place in a different sense by purporting to describe the journeys of shaman across different cultures. To invoke these journeys individually, Blak uses a diverse assortment of instrumentation (shakuhaci, didgeridoo, bark horn, musical saw) in addition to the standard western complement, and draws musical inspiration from the relevant cultures as well. The amalgam works surprisingly well. Non-standard instruments rarely sound out of place (though one might wish that they were occasionally featured more prominently), and the music reflects the subject matter well as the movements shift from meditative to intense.
If you're not averse to programmatic music,
Úr Hólminum
certainly deserves a listen. Blak's writes evocative, well-crafted music that's neatly tied together by his subject matter.