---
Record companies, artists and publicists are invited to submit CDs to be considered for review. Send to: Jerry Bowles, Editor, Sequenza 21, 340 W. 57th Street, 12B, New York, NY 10019
---
Latest Posts
---
Kristian Blak, Úr Hólminum, Hogboy, Vienne la nuit, Shaman
Osvaldas Balakauskas: Requiem
A Child of our Time
ProMusica Chamber Orchestra/American Originals
Two from CPO: Karol Rathaus and Richard Wetz
Knudåge Riisager, Piano Works
Esa-Pekka Salonen: Wing on Wing
Crabtree, Frizzo, Johnson, and Price, Resonance: Chamber Works – Volume 1
Dunedin Consort/The Peoples Mass
Phillip Schroeder, Music for Piano
Record companies, artists and publicists are invited to submit CDs to be considered for our Editor's Pick's of the month. Send to: Jerry Bowles, Editor, Sequenza 21, 340 W. 57th Street, 12B, New York, NY 10019
---
Archives
---
Saturday, December 18, 2004
Saturday, December 25, 2004
Friday, December 31, 2004
Wednesday, January 05, 2005
Monday, January 10, 2005
Thursday, January 13, 2005
Thursday, January 20, 2005
Sunday, January 23, 2005
Monday, January 24, 2005
Saturday, January 29, 2005
Wednesday, February 02, 2005
Thursday, February 03, 2005
Monday, February 07, 2005
Tuesday, February 08, 2005
Friday, February 11, 2005
Monday, February 14, 2005
Wednesday, February 16, 2005
Tuesday, February 22, 2005
Monday, February 28, 2005
Sunday, March 06, 2005
Monday, March 07, 2005
Wednesday, March 09, 2005
Sunday, March 13, 2005
Friday, March 18, 2005
Monday, March 28, 2005
Saturday, April 02, 2005
Monday, April 11, 2005
Sunday, April 17, 2005
Tuesday, April 19, 2005
Monday, April 25, 2005
Monday, May 02, 2005
Monday, May 09, 2005
Tuesday, May 17, 2005
Tuesday, May 31, 2005
Monday, June 06, 2005
Thursday, June 16, 2005
Sunday, June 19, 2005
Sunday, July 10, 2005
Wednesday, July 13, 2005
Sunday, July 24, 2005
Friday, July 29, 2005
Monday, August 08, 2005
Monday, August 22, 2005
Wednesday, August 24, 2005
Friday, September 16, 2005
Sunday, September 25, 2005
Tuesday, October 04, 2005
Tuesday, October 18, 2005
Monday, October 24, 2005
Tuesday, November 01, 2005
Monday, November 07, 2005
Saturday, November 12, 2005
Wednesday, November 16, 2005
Tuesday, November 29, 2005
Friday, December 16, 2005
Monday, January 09, 2006
Thursday, January 12, 2006
Thursday, January 19, 2006
Tuesday, January 24, 2006
Thursday, February 02, 2006
Monday, February 13, 2006
Wednesday, February 15, 2006
Wednesday, March 01, 2006
Sunday, March 19, 2006
Sunday, March 26, 2006
Friday, March 31, 2006
Sunday, April 09, 2006
Monday, April 10, 2006
Thursday, April 20, 2006
Friday, April 21, 2006
Thursday, May 11, 2006
Thursday, May 18, 2006
Saturday, May 20, 2006
Friday, June 02, 2006
Tuesday, June 06, 2006
Friday, June 16, 2006
Monday, June 19, 2006
Sunday, June 25, 2006
Monday, June 26, 2006
Monday, July 10, 2006
Thursday, July 13, 2006
Thursday, July 20, 2006
Friday, July 21, 2006
Sunday, July 23, 2006
Thursday, August 03, 2006
Wednesday, August 09, 2006
Monday, April 11, 2005
David's Picks of the Week: 20th Century Piano Extravaganza
N.B. My rating system goes from 0 to 11: 0 being God-awful, 11 being God-wonderful. Enjoy!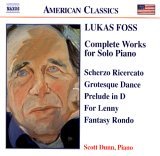 Naxos: Lukas Foss, Complete Works for Solo Piano
Foss's solo piano works span over fifty years and almost as many styles. On this CD we find jazz, Broadway, folk, neo-classicism, serialism, and more – all couched in a familiarly pianistic idiom. The music alternates between the lame and the lovely – sometimes within the same piece. Fortunately the pianist Scott Dunn is consistently terrific as is the recording quality. Rating: 7.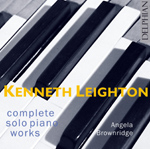 Delphian: Complete Solo Piano Works, Kenneth Leighton (3CDs)
Concert pianists of a relatively un-adventuresome bent could do worse than to check out Kenneth Leighton's work. Leighton (1929-1988) was an English composer who taught for years at the universities of Edinburgh and Oxford. While his music can be a bit nondescript, he nonetheless develops his ideas satisfactorily and offers pianists ample opportunities show off their fingers and musicality – as Angela Brownridge does here. Parts of "Conflicts (Fantasy on Two Themes) Op.51" are stunning. Rating: 8.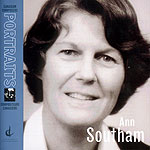 Centrediscs: Canadian Composers Portraits, Ann Southam (3CDs)
The first of this three-CD portrait of Ann Southam (b.1937) is an audio documentary featuring some very adoring fans. The second two CDs feature pianist Christina Petrowska Quilico weaving through Southam's three magisterial sets of pieces collectively entitled "Rivers." Southam is a minimalist, but her music resists all but the most superficial comparisons with Reich, Glass, and the rest: she manages to be process-oriented and classical at the same time. Watch out for tone rows. Rating: 9.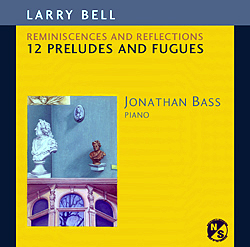 North/South Recordings: Reminiscences and Reflections, Larry Bell
It may be a set of prelude and fugues, but there's nothing academic about our own Larry Bell's new CD. Good humor and an innocent American lyricism prevail. Beyond arranging the pairs chromatically, Bell wisely decides not to chase Bach (his fugues are more Beethovenian). With the help of pianist Jonathan Bass, Bell, through song and dance, gives us a very different kind of well-tempered clavier. The Prelude and Fugue in E is a highlight. Rating: 8.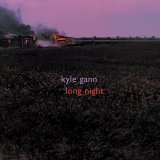 Cold Blue Music: Long Night, Kyle Gann
The bard of bloggers (get it?) serves up this half-hour post-minimal opus for three pianos. Gann's piece is hip in a lonely, meandering-through-city-streets kind of way. It's not all atmosphere though: throughout the work I was convinced I was hearing melodies, yet, when I tried to fix my ear on them, they kept slipping through my hearing like water through my hands. In other words, "Long Night" is subtle work, even if it's a bit Zen for my taste. Rating: 8.