---
Record companies, artists and publicists are invited to submit CDs to be considered for review. Send to: Jerry Bowles, Editor, Sequenza 21, 340 W. 57th Street, 12B, New York, NY 10019
---
Latest Posts
---
Ives Plays Ives, More Number Pieces, and Musique Concrete
Less Famous Than You - Songs by Corey Dargel
happy happy happy happy…
Jerwood Series 2
Extended and Out There
Aires de Sefarad: : 46 Spanish Songs for Violin and Guitar
Concerted Effort From Elliott Carter
A Surge of Percussion from Houston
New music from Daniel Lentz, Payton Macdonald and Melissa Hui
Carol Lian, Carol Lian Plays
Record companies, artists and publicists are invited to submit CDs to be considered for our Editor's Pick's of the month. Send to: Jerry Bowles, Editor, Sequenza 21, 340 W. 57th Street, 12B, New York, NY 10019
---
Archives
---
Saturday, December 18, 2004
Saturday, December 25, 2004
Friday, December 31, 2004
Wednesday, January 05, 2005
Monday, January 10, 2005
Thursday, January 13, 2005
Thursday, January 20, 2005
Sunday, January 23, 2005
Monday, January 24, 2005
Saturday, January 29, 2005
Wednesday, February 02, 2005
Thursday, February 03, 2005
Monday, February 07, 2005
Tuesday, February 08, 2005
Friday, February 11, 2005
Monday, February 14, 2005
Wednesday, February 16, 2005
Tuesday, February 22, 2005
Monday, February 28, 2005
Sunday, March 06, 2005
Monday, March 07, 2005
Wednesday, March 09, 2005
Sunday, March 13, 2005
Friday, March 18, 2005
Monday, March 28, 2005
Saturday, April 02, 2005
Monday, April 11, 2005
Sunday, April 17, 2005
Tuesday, April 19, 2005
Monday, April 25, 2005
Monday, May 02, 2005
Monday, May 09, 2005
Tuesday, May 17, 2005
Tuesday, May 31, 2005
Monday, June 06, 2005
Thursday, June 16, 2005
Sunday, June 19, 2005
Sunday, July 10, 2005
Wednesday, July 13, 2005
Sunday, July 24, 2005
Friday, July 29, 2005
Monday, August 08, 2005
Monday, August 22, 2005
Wednesday, August 24, 2005
Friday, September 16, 2005
Sunday, September 25, 2005
Tuesday, October 04, 2005
Tuesday, October 18, 2005
Monday, October 24, 2005
Tuesday, November 01, 2005
Monday, November 07, 2005
Saturday, November 12, 2005
Wednesday, November 16, 2005
Tuesday, November 29, 2005
Friday, December 16, 2005
Monday, January 09, 2006
Thursday, January 12, 2006
Thursday, January 19, 2006
Tuesday, January 24, 2006
Thursday, February 02, 2006
Monday, February 13, 2006
Wednesday, February 15, 2006
Wednesday, March 01, 2006
Sunday, March 19, 2006
Sunday, March 26, 2006
Friday, March 31, 2006
Sunday, April 09, 2006
Monday, April 10, 2006
Thursday, April 20, 2006
Friday, April 21, 2006
Thursday, May 11, 2006
Thursday, May 18, 2006
Saturday, May 20, 2006
Friday, June 02, 2006
Tuesday, June 06, 2006
Friday, June 16, 2006
Monday, June 19, 2006
Sunday, June 25, 2006
Monday, June 26, 2006
Monday, July 10, 2006
Thursday, July 13, 2006
Thursday, July 20, 2006
Friday, July 21, 2006
Sunday, July 23, 2006
Thursday, August 03, 2006
Wednesday, August 09, 2006
Saturday, May 20, 2006
Zwilich Concertos for Violin and Percussion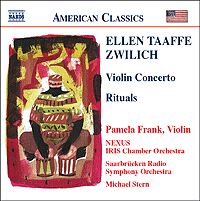 Ellen Taaffe Zwilich: Violin Concerto; Rituals
Pamela Frank, violin
NEXUS
IRIS Chamber Orchestra, Saarbrücken Radio Symphony Orchestra
Michael Stern
Naxos
The music of Ellen Taaffe Zwilich has at times been criticized for its tendency toward prolonged stretches of intense buildup without release. Although this would make an interesting case study in light of musicologist Susan McClary's theories regarding the gender-based need for teleology, I did not find this to be an issue in either of the works included on this disc. Pamela Frank, who premiered Zwilich's
Violin Concerto
at Carnegie Hall with the Orchestra of St. Luke's in 1998, is an ideal match for its formidable technical and artistic demands. Rhythmically kinetic passages, one of the Zwilich's trademarks, abound (the type of "cat and mouse" music that for me always conjures up mental images of Cary Grant dodging a crop duster). The possibility of tedium is swiftly averted by a constant variety of texture and orchestration. A violinist herself, Zwilich has contributed a masterwork to the repertoire that explores the instrument's multiple personalities. The violin's inherent versatility shines in the soaring
cantabile
lines of the second movement (using Bach's D minor Chaconne as a basis) and throughout the finale's virtuosic
moto perpetuo
. This concerto contains many echoes of Ravel, particularly in its use of winds, jazzy rhythms and impressionistic harmonies. The relentless crescendo near the end of the third movement brought to mind his Concerto for the Left Hand.
The four movements of Zwilich's
Rituals
were inspired by the use of percussion sounds in cultural contexts worldwide. The instrumentation marks a departure for the composer, yet the formula she has used in her numerous concerted works for more conventional soloists and orchestra is again successful here. The work cleverly manages to effectively blend a diverse battery of percussion instruments (skillfully handled by the Toronto-based ensemble NEXUS), with a chamber orchestra. Zwilich's score also allows for some improvisation within the solo lines.
Rituals
opens with an "Invocation," an introduction to the soloists' exotic timbres. Zwilich's own version of a short ride in a drum machine follows with the "Ambulation." The eerily evocative third movement, "Remembrances," focuses on the traditional use of percussion in memorial ceremonies. Finally, in "Contests," the orchestra eggs the soloists on as they engage in a bit of friendly competition that becomes a showdown as the frenetic pace increases.
The two pieces on this disc vary greatly in their instrumentation, yet both demonstrate Zwilich's unmitigated mastery of the concerto medium. She is a composer who continues to build unapologetically upon history; as a result, her music is supremely listenable, accessible, and perhaps not coincidentally, beautiful.