---
Record companies, artists and publicists are invited to submit CDs to be considered for review. Send to: Jerry Bowles, Editor, Sequenza 21, 340 W. 57th Street, 12B, New York, NY 10019
---
Latest Posts
---
A Child of our Time
ProMusica Chamber Orchestra/American Originals
Two from CPO: Karol Rathaus and Richard Wetz
KnudŚge Riisager, Piano Works
Esa-Pekka Salonen: Wing on Wing
Crabtree, Frizzo, Johnson, and Price, Resonance: Chamber Works Ė Volume 1
Dunedin Consort/The Peoples Mass
Phillip Schroeder, Music for Piano
Daniel Lippel: Resonance
The London Symphony (1904-2004) - The Centennial Set
Record companies, artists and publicists are invited to submit CDs to be considered for our Editor's Pick's of the month. Send to: Jerry Bowles, Editor, Sequenza 21, 340 W. 57th Street, 12B, New York, NY 10019
---
Archives
---
Saturday, December 18, 2004
Saturday, December 25, 2004
Friday, December 31, 2004
Wednesday, January 05, 2005
Monday, January 10, 2005
Thursday, January 13, 2005
Thursday, January 20, 2005
Sunday, January 23, 2005
Monday, January 24, 2005
Saturday, January 29, 2005
Wednesday, February 02, 2005
Thursday, February 03, 2005
Monday, February 07, 2005
Tuesday, February 08, 2005
Friday, February 11, 2005
Monday, February 14, 2005
Wednesday, February 16, 2005
Tuesday, February 22, 2005
Monday, February 28, 2005
Sunday, March 06, 2005
Monday, March 07, 2005
Wednesday, March 09, 2005
Sunday, March 13, 2005
Friday, March 18, 2005
Monday, March 28, 2005
Saturday, April 02, 2005
Monday, April 11, 2005
Sunday, April 17, 2005
Tuesday, April 19, 2005
Monday, April 25, 2005
Monday, May 02, 2005
Monday, May 09, 2005
Tuesday, May 17, 2005
Tuesday, May 31, 2005
Monday, June 06, 2005
Thursday, June 16, 2005
Sunday, June 19, 2005
Sunday, July 10, 2005
Wednesday, July 13, 2005
Sunday, July 24, 2005
Friday, July 29, 2005
Monday, August 08, 2005
Monday, August 22, 2005
Wednesday, August 24, 2005
Friday, September 16, 2005
Sunday, September 25, 2005
Tuesday, October 04, 2005
Tuesday, October 18, 2005
Monday, October 24, 2005
Tuesday, November 01, 2005
Monday, November 07, 2005
Saturday, November 12, 2005
Wednesday, November 16, 2005
Tuesday, November 29, 2005
Friday, December 16, 2005
Monday, January 09, 2006
Thursday, January 12, 2006
Thursday, January 19, 2006
Tuesday, January 24, 2006
Thursday, February 02, 2006
Monday, February 13, 2006
Wednesday, February 15, 2006
Wednesday, March 01, 2006
Sunday, March 19, 2006
Sunday, March 26, 2006
Friday, March 31, 2006
Sunday, April 09, 2006
Monday, April 10, 2006
Thursday, April 20, 2006
Friday, April 21, 2006
Thursday, May 11, 2006
Thursday, May 18, 2006
Saturday, May 20, 2006
Friday, June 02, 2006
Tuesday, June 06, 2006
Friday, June 16, 2006
Monday, June 19, 2006
Sunday, June 25, 2006
Monday, June 26, 2006
Monday, July 10, 2006
Thursday, July 13, 2006
Thursday, July 20, 2006
Friday, July 21, 2006
Sunday, July 23, 2006
Thursday, August 03, 2006
Wednesday, August 09, 2006
Monday, March 28, 2005
Osvaldas Balakauskas: Requiem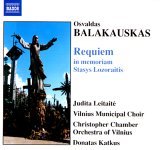 (In memoriam of Stasys Lozoraitis)
Judita Leitaite
Vilnius Municipal Choir,
Orchestra of Vilnius (et al)
Donatas Karkus
Osvalsas Balakauskas is one of the foremost leaders of Lithuanian contemporary music composition. He is also a national icon having served as the Lithuanian ambassador to France, Portugal and Spain. Balakauskas developed his compositional skills in the Kiev Conservatory where he decidedly took a more non-traditionalist and progressive approach to composition as opposed to the more traditional Russian school bending towards Prokofiev and Shostakovich, which was accepted and popular at the time there. In his homeland he is thought to be more of a cosmopolitan Eurocentric composer, eschewing the folk music infused compositional tradition, which is favored there. But in listening to this Requiem he has managed to integrate a good deal of folk music sensibilities into the work. And it is not just about that. It is also as eclectic as say Oliver Messiaen.
The Requiem is scored for chamber orchestra, soloist; Judita Leitaite, and choir. At a listening you may make the association of the orchestral shadings and tonal modality with another famous Baltic State composer, Arvo Part, and you would be right to. There is the ancient/modern mystical Gregorian chant language that is a trademark of Partís. (A version of the Arvo Part Requiem is also recorded on the Naxos label). But, For what itís worth, Balakauskas' orchestration and use of vocal timbre is more colorfully open and eclectic. This use of a wide tonal and instrumental palate also creates a range of emotion and some spiritual depth that winds through the 12 segments. Interestingly though, its overall character is rather light and upbeat, uncharacteristically so for a requiem. Some of the segments like #5; Recordare, are sparse folk melodies and their accompaniment has a kind of essence of the Renaissance. #10; The Benedictus uses a rhythmically and melodically complex counterpoint of entwined instruments and voices in a lively up-tempo rondo like form. At times, as in #11; Lacrymosa, his style and unique language, which he calls dodekatonika-his own 12 tone system-can become a bit ponderous and weighty in that the mechanics of composition overshadow the content. But it can also be interesting to see the inner syntax of the composerís language, at times.
Overall, if you are looking music by a fairly obscure Lithuanian composer and a somewhat fresh, even light, take on an old form then give this a spin on the old CD player. Itís not an incredibly deep and awe inspiring composition as requiems go but the choir, orchestra and soloist deliver a professional and engaging quality performance.