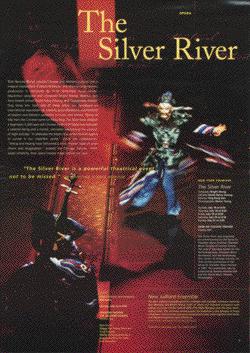 The Silver River, Bright Sheng's smart, lean opera based on an ancient Chinese myth of forbidden love between a moon goddess and a mortal man, will debut this week at the Lincoln Center Festival.

The river in this case is the Milky Way, which two lovers (one a cowherd, the other a goddess) can cross just once a year, meeting on a bridge made of the folded wings of magpies.

With a libretto by award-winning playwright David Henry Hwang, The Silver River premiered at the 1997 Santa Fe Chamber Music Festival.
An expanded version was presented at American Spoleto Festival's 2000
Season and it is this revised version that has found its way to Lincoln Center.

"The Silver River is a contemporary and multi-disciplinary work that is derived from an ancient Asian fairy tale," says Festival Director Nigel Redden. "Sheng's masterpiece interweaves music theater
influences with Asian genres interspersed with traditional Chinese opera. Sheng has brought the beauty and depth of an Asian fable set to music into the American mind-set."

After this week's performances, Sheng heads to Tanglewood, where he serves as director of the Festival of Contemporary Music. He then
travels to Asia in August, to conduct the Asian Youth Orchestra in its 2002 summer tour.

Next year could be even better for the University of Michigan music professor. The New York Philharmonic will feature his new orchestral piece for Yo-Yo Ma and Emanuel Ax, and the Santa Fe Opera will premiere his new opera Madame Mao.
.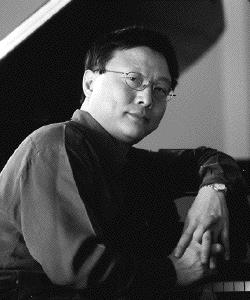 Bright Sheng's next opera--Madame Mao--will debut next year in Santa Fe.

THE BAD OLD DAYS? Composer/critic Greg Sandow wrestles with the historical context of atonal music. "What was atonal music about? Most important, what should it mean to us today, now that we're partly free of it? As I've been saying, here and elsewhere for quite a while, it badly needs a reassessment. We still have (just to cite one obvious example) James Levine, conscientiously conducting Schoenberg at the Met, convinced that Moses und Aron is a classic that the whole world needs to hear. I'm not going to say it isn't one (that's another conversation), but what's odd is the all but explicit subtext, that Schoenberg still is music of our time." NewMusicBox.com 07/02

NEXT ON SPRINGER: Really - if you think about it, Jerry Springer isn't far off the mark as grist for an opera. "Its subject matter may be wackier than classical opera, its language stronger, but the basic themes are all there." Operas have often used seamy everyday stories for their stories. "When you look at Titus Andronicus, the last scene of that when they are all intermarried and tearing each other apart, it really looks like a final scene of the Jerry Springer show." Glasgow Herald 07/09/02

TRIBUTE AT TANGLEWOOD: The Boston Symphony Orchestra paid tribute this weekend to the man who has been its leader for the past three decades, and the celebration, while a bit over the top at times, was apparently a hit with the crowds gathered at the orchestra's famous Tanglewood summer home in western Massachusetts. During the concert, it was announced that Ozawa had been named music director laureate of the BSO, after much apparent behind-the-scenes discussion and debate. Boston Herald 07/14/02

STORM CLOUDS GATHERING: Orchestras around the U.S. and Canada are continuing to struggle with rising deficits and slumping ticket sales. But while orchestras in Chicago, Minneapolis, and the like can count on hefty endowments and high-profile public support to assist them, North America's small, regional ensembles are increasingly finding themselves on the edge of complete fiscal insolvency. The latest examples are in Jacksonville, Florida, which is cutting staff; and Shreveport, Louisiana, where the local orchestra has barely avoided a shutdown. The Business Journal (Jacksonville) 07/10/02 & Shreveport Times 07/11/02

THINK OF THE CHILDREN: Today's society tends to take a dim view of child prodigies, assuming that children who excel at figure skating, tennis, or music are being unfairly pushed by greedy parents unable to control their insatiable desire for a superstar in the family. But where does that leave parents with a daughter who genuinely loves her violin so much that she can think of nothing else? Gwendolyn Freed meets a family walking that very tightrope, and doing so without any apparent ruination of anyone's right to a happy childhood. The Star Tribune (Minneapolis) 07/14/02

FACE TIME WITH AN ORCHESTRA: Young composers need to know how to work with an orchestra so they can understand and explain exactly what they want. Young conductors need face time with orchestras. The New Jersey Composition and Conducting Institute is a new program run by the New Jersey Symphony to give composers and conductors opportunities to work with one another and with a professional orchestra. The New York Times 07/12/02

FOR STRUGGLING GERMANS - SUMMER IN SPAIN: Berlin may be struggling to finance its rich cultural treasures, including three opera companies. But one of those treasures - the Berlin Staatsoper - isn't sitting around waiting for who knows what. The company and music director Daniel Barenboim have moved for the summer to Madrid, where the city is happy to have the 27 soloists, 135 orchestral players, a chorus of 90 and assorted technical staff, not to mention 25 tonnes of sets and costumes. "It is plain that he and the Staatsoper are very popular in the Spanish capital. Local audiences follow the company's fortunes and the development of the singers as if they were their own." The Times (UK) 07/09/02

PRICE POINT: Though album sales were down modestly last year, there were some bright spots. Where? In lower-priced CDs. They sold very well. "A lot of labels are coming to terms with the fact album prices have gotten too high and that we're competing with video games, CD burning and the Internet now. So pricing is a big factor." Washington Times (Copley) 07/08/02

CHICAGO SYMPHONY'S LONG-OVERDUE HIRE: The Chicago Symphony has just hired its first-ever African American musician. "Tage Larsen, second trumpet for the St. Louis Symphony since 2000, joined the CSO as fourth utility trumpet, effective July 1." Chicago Sun-Times 07/09/02

AND ON ANOTHER FRONT... "Marin Alsop will become only the second woman to conduct the Chicago Symphony Orchestra at Ravinia when she makes her CSO podium debut there Friday in an all-Russian program, with Nadja Salerno-Sonnenberg as violin soloist. Indeed, there have been only a few women conductors of the CSO at Orchestra Hall." Chicago Tribune 07/09/02

Last Week's News

---
Record companies, artists and publicists are invited to submit CDs to be considered for our Editor's Pick's of the month. Send to: Jerry Bowles, Editor, Sequenza 21, 340 W. 57th Street, 12B, NY, NY 10019 Also, feel free to nominate your favorite composer-- even if it's you--for Spotlight of the Week.
---
---
Yanks Lose. Might As Well Write an
Opera.
---
Richard Wilson has written some 80 works in many genres but it is probably fair to say that he is the only composer inspired to write an opera by a losing
baseball team.
"It was during a prolonged losing streak
of the New York Yankees (we New
Yorkers love our Yankees) that, musing on the subject of failure, I decided to write an opera about Æthelred the Unready," Wilson says. "The libretto I wrote is
mainly whimsical. But, it does draw on history, presenting three characters who
actually existed."
Work on the libretto and then the music of the opera began in the summer of 1992. Excerpts were performed in concert by The American Symphony Chamber Orchestra in 1993 and 1994. The first complete performance is the one captured on a new release from Albany.
Wilson was born in Cleveland in 1941. He studied piano with Roslyn Pettibone, Egbert Fischer and Leonard Shure; and cello with Robert Ripley and Ernst Silberstein. His first compositional studies were with Roslyn Pettibone and Howard Whittaker. Much of his early musical study took place at the Cleveland Music School Settlement, where he taught cello briefly in the absence of Ernst Silberstein.
A Phi Beta Kappa graduate of Harvard, he holds the Mary Conover Mellon Chair in Music at Vassar; he is also Composer-in-Residence with the American Symphony Orchestra.
In retrospect, Wilson is lucky to have caught the Yankees in a down cycle since they don't lose that much any more. These days he'd have to call his opera, Derek the Ready.
---
Previous Interviews/Profiles
Simon Rattle,
Michael Gordon,
Benjamin Lees,
Scott Lindroth,
David Felder,
Mark-Anthony Turnage,
Erkki-Sven Tüür,
John Luther Adams,
Brett Dea
n,
Judith Lang Zaimont,
Meyer Kupferman,
Evan Chambers,
Poul Ruders,
Steven R. Gerber,
Gloria Coates
Previous Articles/
Busoni The Visionary
The Composer of the Moment: Mark-Anthony Turnage
Electronic Music
Voices: Henze at 75
Henze Meets Emenim
On Finding Kurtag
Charles Ruggles: When Men Were Men
Ballet Mécanique
The Adams Chronicles