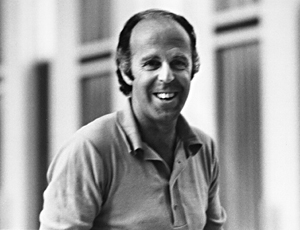 In every profession, there is someone who is famous for being unknown. Earle Brown was one of them.
---
Earle Brown, a veteran of the original
post-war avant-garde of John Cage, Morton Feldman, Pierre Boulez,
Karlheinz Stockhausen, died last Tuesday at his home in Rye, New York.

Brown was born in Lunenburg,
Massachusetts, on December 26, 1926. He studied mathematics and
engineering at Northeastern University, and attended the Schillinger House School of Music for techniques of composition and orchestration which was based on the ideas of the New York mathematician, composer and musicologist, who
had influenced a range of
composers including George Gershwin.

Brown has been a major force in
contemporary music since the early 1950's. His work at that time with new notations, scoring methods, and performance attitudes led to his development of graphic,
improvisational, and "open-form" scores such as DECEMBER 1952 (from his
collection of FOLIO), TWENTY-FIVE
PAGES (1953) for one to twenty-five pianos, as well as the later orchestral scores AVAILABLE FORMS I and II
(1961 and 1962).

After then he continued to develop his
"open-form" concepts and performance
techniques in new ways. Directly influenced by the visual arts in many ways, in particular by the works of Alexander Calder and Jackson Pollock,
Brown's music is also
related to the work of Robert Rauschenberg in its conception and formulation, for example in its use of collage and juxtaposition. In the past, Brown had organized "sonic events" and performances of his own and other new music in galleries and museums in the United States and Europe, making clear through these performances some of the relationships between contemporary
music and visual art.

Brown has been composer-in-residence at the California Institute of the Arts,
the University of California at
Berkeley, the
Peabody Conservatory of Music (which
awarded him an honorary Doctorate of Music in 1970), Rotterdam Kunstichting, the Basel Conservatory of Music, Yale University, Indiana University, Bloomington, and at the
American Academy in Rome (1987), among other institutions. He received numerous awards and commissions both in this country and abroad. Some of
these were a Guggenheim Fellowship
and an American
Academy and National Institute of Arts and Letter Awards, the Brandeis
Creative Arts Award, grants from the National Endowment
for the Arts and the New York State Council on the Arts, and commissions from Darmstadt, Paris, Zagreb, London, Rome, Saarbrucken and Venice, among others.

Brown had also been guest
composer-in-residence at the Tanglewood and Aspen music festivals, at D.A.A.D. Berlin (70'-71'), served as panelist for the National Endowment for the Arts Inter-Arts Program, and was a director of the Fromm Foundation at Harvard and has been the
president of the American Music Center.

SMOKE GETS IN THEIR EYES: Glyndebourne was proud of its coup - signing British American Tobacco to sponsor a production of Carmen. "In an inspired piece of marketing, the tobacco giant is sponsoring the story of the heroine who labours in a cigarette factory, hoping to endear itself to the champagne-quaffing classes." But now politicians, anti-smoking campaigners and artists are attacking, especially because of a performance scheduled to be broadcast over BBC. The Guardian (UK) 07/01/02

HIGH TIDES RAISE TUNES: A "High Tide Organ" is being installed on the waterfront in Blackpool England. Powered by natural forces, "the organ will offer a concert-like performance. With a few short peeps heralding the high tide, the sea will lead up to the main show with a few intermittent notes and chords. At the point of high tide, the organ will gloriously strum out a rhythmic crescendo whose effect is supposed to be similar to an aeolian harp. Vulnerable to mood swings just like other artists, performances are expected to be wild and frenzied on stormy days and softly mellifluous on calmer ones."Wired 07/01/02
SOUND OF WATER: A water organ built in the 16th Century at the Villa d'Este in Italy was smashed in the 18th Century because villagers disliked its sound. Now it's being restored. "The organ works on a principle of creating air pressure with the suction of water plunging down a pipe. The water organ was one of the marvels of the Renaissance, but when it fell into disrepair, the skills necessary to maintain it had been lost." BBC 06/30/02
ART OF SOUND: Not really music, sound art is finding more practitioners. "The term 'audio art' encompasses work ranging from high-end audio documentaries to sophisticated electro-acoustic compositions that may also involve live performers. Often based on sounds the composer records in nature then processes digitally, the audio art movement has strong ties to environmentalism." National Post 07/05/02

THE IMPERFECT MOZART: No composer is so enshrined as a monument to musical perfection as Mozart. And yet, in reality, few artists have embodied such a struggle between sniggering immaturity and highly developed genius as the beloved Wolfgang. In fact, Mozart's image has undergone multiple revisions over the centuries, with musicians and scholars portraying him as everything from a flawed and vulgar prodigy to a godlike purveyor of truth and beauty. The truth, as usual, lies somewhere in between. The Observer (UK) 07/07/02

DON'T FORGET EGO STROKER AND PEACEMAKER: "Wanted: Conductor-music director for the Toronto Symphony Orchestra. Must be outstanding musician, inspiring leader, charismatic educator, willing fundraiser and committed community activist. Godhood an asset. And you wonder why it is taking so long for the orchestra's search committee to fill the patent leather shoes vacated last June by Jukka-Pekka Saraste?" Toronto Star 07/06/02

WHERE ARE THE BLACK MUSICIANS? "Since his breakthrough as a teenage pianist 40 years ago, the virtuoso Andre Watts has, until recently, been the only high-profile African-American performer in the traditionally white world of highbrow music. Now, however, classical concerts are beginning to show more racial diversity." Christian Science Monitor 07/05/02

LEAST FAVORITE INSTRUMENT: In a survey, children rank the recorder as their least favorite instrument. "The wind instrument was the least favourite of musical instruments in a survey of 1,209 pupils carried out by Susan O'Neill of Keele University, even though it was the one played by the largest number." The Guardian (UK) 07/04/02

MAJORITY OF ORCHESTRA MUSICIANS PLAY HURT: An expert in stress injuries who has studied orchestra musicians, says that "in any orchestra performing on stage, 60 per cent (of people) will be carrying some injury. Common injuries include muscle strain, carpal tunnel syndrome, thumb strain, tendonitis and shoulder injuries." Adelaide Advertiser 07/02/02

HOT NUMBER: Soprano Susan Chilcott was singing in Tchaikovsky's The Queen Of Spades at London's Royal Opera House when "a candle set fire to the train of her dress. Members of the audience shouted at her but Chilcott carried on with her aria, unaware of the danger. A member of staff and a fire officer then ran on stage and put out the blaze with a water extinguisher." BBC 07/02/02
Last Week's News

---
Record companies, artists and publicists are invited to submit CDs to be considered for our Editor's Pick's of the month. Send to: Jerry Bowles, Editor, Sequenza 21, 340 W. 57th Street, 12B, NY, NY 10019 Also, feel free to nominate your favorite composer-- even if it's you--for Spotlight of the Week.
---
Travels with Sondheim: Pacific Overtures
The Lincoln Center Festival kicks off this week with an unusual take on Stephen Sondheim's much travelled 1976 operetta Pacific Overtures. Directed by Amon Miyamoto, one of Japan's most promising young musical theater directors, this production synthesizes a variety of Japanese theater traditions-Noh, Kabuki, Bunraku, and Rokyoku-to create a highly original interpretation of this early Sondheim piece.

The New National Theatre of Tokyo's production offers a unusual reversal, bringing a Japanese theatrical sensibility to an American perspective on the westernization of Japan. The advance program promises that traditional Japanese set designs-such as a hanamichi (a walkway which will extend down the center of the hall), a pool of water representing the Pacific Ocean, and elegant revolving screens-will transform rusty old Avery Fisher Hall into a Japanese stage of sophistication and beauty.

Originally performed at New National Theatre's home in Tokyo, Miyamoto's production was enthusiastically embraced by Japanese audiences, critics, and Sondheim himself. "It was a fabulous show, powerful and without anything superfluous," he praised. The Daily Yomiuri applauded: "Miyamoto, aided by the terrific musical direction of Taizo Takemoto and an enormously talented orchestra, accomplished a feat that is all too rare on the Japanese theater scene." JB




Will Sondheim Succeed in Being Genuinely Japanese?
January 4, 1976

Tokyo 2000

Off-Broadway 1984

London 1987

Broadway 1976
---
Classical Grammy Winners
---
Previous Interviews/Profiles
Simon Rattle,
Michael Gordon,
Benjamin Lees,
Scott Lindroth,
David Felder,
Mark-Anthony Turnage,
Erkki-Sven Tüür,
John Luther Adams,
Brett Dea
n,
Judith Lang Zaimont,
Meyer Kupferman,
Evan Chambers,
Poul Ruders,
Steven R. Gerber,
Gloria Coates
Previous Articles/
Busoni The Visionary
The Composer of the Moment: Mark-Anthony Turnage
Electronic Music
Voices: Henze at 75
Henze Meets Emenim
On Finding Kurtag
Charles Ruggles: When Men Were Men
Ballet Mécanique
The Adams Chronicles