---
Record companies, artists and publicists are invited to submit CDs to be considered for review. Send to: Jerry Bowles, Editor, Sequenza 21, 340 W. 57th Street, 12B, New York, NY 10019
---
Latest Posts
---
Ernst Pepping and Allan Pettersson: Moral Dilemmas in Symphonic Music
"The numbers all go to eleven. Look, right across the board, eleven, eleven, eleven and... "
Tell the Birds
Soundtrack to an Apocalypse
Feast Your Ears: New Music for Piano
Gone For Foreign
Fred Lerdahl: Time After Time
Nothing Sacred
Two From Wayne Horvitz
Two Fresh Cantaloupes
Record companies, artists and publicists are invited to submit CDs to be considered for our Editor's Pick's of the month. Send to: Jerry Bowles, Editor, Sequenza 21, 340 W. 57th Street, 12B, New York, NY 10019
---
Archives
---
Saturday, December 18, 2004
Saturday, December 25, 2004
Friday, December 31, 2004
Wednesday, January 05, 2005
Monday, January 10, 2005
Thursday, January 13, 2005
Thursday, January 20, 2005
Sunday, January 23, 2005
Monday, January 24, 2005
Saturday, January 29, 2005
Wednesday, February 02, 2005
Thursday, February 03, 2005
Monday, February 07, 2005
Tuesday, February 08, 2005
Friday, February 11, 2005
Monday, February 14, 2005
Wednesday, February 16, 2005
Tuesday, February 22, 2005
Monday, February 28, 2005
Sunday, March 06, 2005
Monday, March 07, 2005
Wednesday, March 09, 2005
Sunday, March 13, 2005
Friday, March 18, 2005
Monday, March 28, 2005
Saturday, April 02, 2005
Monday, April 11, 2005
Sunday, April 17, 2005
Tuesday, April 19, 2005
Monday, April 25, 2005
Monday, May 02, 2005
Monday, May 09, 2005
Tuesday, May 17, 2005
Tuesday, May 31, 2005
Monday, June 06, 2005
Thursday, June 16, 2005
Sunday, June 19, 2005
Sunday, July 10, 2005
Wednesday, July 13, 2005
Sunday, July 24, 2005
Friday, July 29, 2005
Monday, August 08, 2005
Monday, August 22, 2005
Wednesday, August 24, 2005
Friday, September 16, 2005
Sunday, September 25, 2005
Tuesday, October 04, 2005
Tuesday, October 18, 2005
Monday, October 24, 2005
Tuesday, November 01, 2005
Monday, November 07, 2005
Saturday, November 12, 2005
Wednesday, November 16, 2005
Tuesday, November 29, 2005
Friday, December 16, 2005
Monday, January 09, 2006
Thursday, January 12, 2006
Thursday, January 19, 2006
Tuesday, January 24, 2006
Thursday, February 02, 2006
Monday, February 13, 2006
Wednesday, February 15, 2006
Wednesday, March 01, 2006
Sunday, March 19, 2006
Sunday, March 26, 2006
Friday, March 31, 2006
Sunday, April 09, 2006
Monday, April 10, 2006
Thursday, April 20, 2006
Friday, April 21, 2006
Thursday, May 11, 2006
Thursday, May 18, 2006
Saturday, May 20, 2006
Friday, June 02, 2006
Tuesday, June 06, 2006
Friday, June 16, 2006
Monday, June 19, 2006
Sunday, June 25, 2006
Monday, June 26, 2006
Monday, July 10, 2006
Thursday, July 13, 2006
Thursday, July 20, 2006
Friday, July 21, 2006
Sunday, July 23, 2006
Thursday, August 03, 2006
Wednesday, August 09, 2006
Tuesday, October 04, 2005
Three Generations of Violin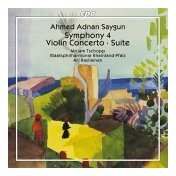 Symphony No. 4; Violin Concerto; Suite
Ahmed Adnan Saygun
Mirjam Tschopp, violin
Staatsphilharmonie Rheinland-Pfalz, Ari Rasilainen conducting.
CPO 777 043-2. 2005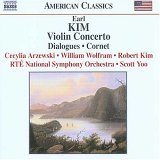 Violin Concerto; Dialogues; Cornet
Earl Kim
Cecylia Arzewski, violin; William Wolfram, piano; Robert Kim, narrator;
RTE National Symphony Orchestra, Scott Yoo conducting.
Naxos 8.559226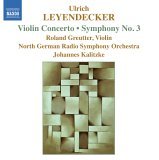 Violin Concerto; Symphony No. 3
Ulrich Leyendecker
Roland Greutter, violin;
North German Radio Symphony Orchestra, Johannes Kalitzke conducting.
Naxos 8.557427. 2005.
These recordings represent three generations of 20th century composers from three different countries and their takes on both the symphony and the violin concerto. By far, the most interesting is Ahmed Adnan Saygun (1907-1991), a brilliant Turkish composer who was one of the members of the so-called "Turkish Five." An ethnomusicologist as well as composer, Saygun assisted Bela Bartok when the latter came to Turkey to do research on Turkish folk music. The influence of Bartok is unmistakable, and one can hear many similarities between Saygun's Symphony No. 4 (1976) and Bartok's music, especially the Concerto for Orchestra.
There is great density to Saygun's orchestral writing, and he uses the brass section to great dramatic effect. The second movement of the 4th Symphony is in the form of the passacaglia, and here we can hear Saygun's mastery of older forms to great effect. In the 1920s, Saygun studied composition not only at the Paris Conservatory, but also at the more conservative and traditionally oriented Schola Cantorum of Vincent d'Indy. Saygun also benefited greatly from the westernizing efforts of the Attaturk's early state in which German culture and educational systems were imported at breakneck speed, a condition that increased exponentially during the 1930s when hundreds of Jewish composers and musicians either settled in or spent considerable time in Turkey.
In his Suite, Op. 14 of 1934, Saygun utilizes Turkish folk melodies as the thematic material upon which he bases larger musical forms. Although he uses techniques similar to those of Bartok, the effect is much different. Saygun is not shy with using the full orchestral tutti and getting to it without much in the way of a crescendo. Rhythmically, Saygun has little in common with Bartok, but this is due to the difference between Turkish and Hungarian folk music (and the Turkish and Hungarian languages). The heavy accents on the first beat that typify Bartok's folkloric music are derived from the accent patterns of the Hungarian language in which generally the first syllable of a word is accented. The folk tunes that Saygun uses, however, are easily recognizable as being "Oriental" or "Arabic" to Western ears.
Saygun's Violin Concerto of 1967 is an arresting work that demands repeated listenings. Set in the traditional three-movement format, this work is anything but traditional. After introductory chords of a few measures' duration, the solo violin enters and states the first theme, a broadly disjunct melody that is used in a developmental way. A more lyrical and much less disjunct second theme that is very reminiscent of Hindemith appears about a fourth of the way into the movement. These two themes are then combined and developed in a very interesting way. Saygun's propensity for the orchestral tutti poses a real problem in the violin concerto in which the orchestra can all but drown out the soloist. Saygun, therefore, allows alternation between the orchestral tutti and the soloist without any accompaniment. In Saygun's modern version of sonata form, he places the solo cadenza, which traditionally appeared before the final orchestral ritornello, in the middle of the movement and uses it as the development section. The first movement then gradually winds itself down into a long sustained tone in the violin. The second movement, Adagio, picks up where the first movement left off, taking the second theme of the first movement as its point of departure. From this ethereal start Saygun manages to leave all notions of adagio behind as he builds to a massive tonal mass in the middle of the movement, which then winds down into nothingness. The third movement is an allegro that contains a fugal-like middle section.
Violinist Mirjam Tschopp is an assured and brilliant performer of modern music and her interpretation of Saygun's concerto is exemplary. This is not a work for a shrinking violet or a violinist with a less than full-bodied tone, and Tschopp delivers a splendid performance. The Staatsphilharmonie Pheinland-Pfalz under the direction of Ari Rasilainen displays a real affinity for Saygun's music. This is a composer whose works deserve to be heard.
I wish I could say the same for the music of American composer Earl Kim (1920-1998), but Kim's music suffers from all of the defects one comes to associate with that peculiarly American institution, the tenured university composer. This is not to say that Kim's music is without merit or that the composer was untalented. Indeed, one is able to perceive at times snippets of real talent, but unfortunately they are hidden behind a morass of academic sterility that disfigures his output.
Like so many American tenured university composers of the post-war period, Kim succumbed to the false gods of dodecaphony and serialism long after they had exhausted any aesthetic potential. Although a certain Zen-like sensibility imbues Kim's music, this is negated by Kim's seeming inability to create without the crutch of the tone row. The effect is not unlike those writers who have substituted Derrida and DeMan for Hemingway and Faulkner. What they create is glib, sterile and essentially meaningless.
For example, the first movement of Kim's Violin Concerto of 1979 (composed for Itzhak Perlman), is a study of tone rows and their palindromes. This procedure used to be called retrograde. Old wine in new bottles, I suppose, but the effect is the same. This concerto is episodic in nature and strikes the listener as more a series of technical exercises for the violin with periodic orchestral interruptions than a unified composition.
Much more successful is Cornet: A Tale of Love and Death, Kim's setting of the Rilke poem. Kim's inability to create successful large forms actually works to his benefit in this interesting work for orchestra and narrator. Although attempts have been made to compare this work with Schoenberg's Ode to Napoleon or The Survivor from Warsaw, I do not believe that they are appropriate. The structure of the Rilke poem provides an overarching structure to Kim's music and assists in preventing it from devolving into unrelated aphoristic segments. But the impression one receives from this work is that Kim could have been a great composer for film, rather than just being an average and unimportant university composer. But it is the tragedy of our age that the university has a tendency to destroy, rather than nurture, art.
Violinist Cecylia Arzewski and Scott Yoo conducting the RTE National Symphony Orchestra do a creditable job performing less than exemplary music. Actor Robert Kim gives an excellent reading of the English translation of Rilke's poem.
It is refreshing, then, to listen to the music of German composer Ulrich Leyendecker (b. 1946). Here is a German composer who has managed to shake off the tainted legacy of post-Wagnerian Aryan musical nationalism without giving in to the equally pernicious influence of Theodor Adorno. Here is a German composer who thumbs his nose at the Frankfurt School and proudly proclaims that after Auschwitz not only can there be art, but there must be art.
Leyendecker's Third Symphony (1991) is a haunting work, at times full of pathos, at other times seemingly full of unrestrained joy. The first movement, Largo leggiero, begins in a seemingly static manner, but then a "dialogue" ensues between the high sustained notes and a countermelody in the bass instruments. The effect is somewhat like a medieval motet in which each note of the cantus firmus is held for what seems to be an eternity while other voices proceed at a much faster pace.
The second movement, Presto volante (Scherzo), lives up to its name, but we find the high sustained notes of the first movement showing up again.. Themes from the first and second movement also reappear in the third and concluding movement, Luminoso. Leyendecker manages to create a work that is modern and innovative while at the same time having a formal structure that is aurally comprehendible to the listener.
Even more accessible, but no less challenging, is Leyendecker's Violin Concerto of 1995. The first movement begins almost in media res, with the violin boldly stating the heavily rhythmic theme alone. A second more lyrical theme follows, and it becomes apparent that the organizational structure, if not the harmonic plan, of sonata form is being followed. As in his Third Symphony, Leyendecker gives a cyclical thematic structure that provides great unity to the entire composition.
Violinist Roland Greutter, the dedicatee of the Concerto, performs the extremely difficult solo part with great assurance and musicianship, and the North German Radio Symphony Orchestra and conductor Johannes Kalitzke are more than a match for Leyendecker's complex orchestral accompaniment. While this Naxos recording is exemplary in almost all aspects, listeners should be warned that the Third Symphony appears before the Violin Concerto and not the other way around as indicated on the cd's back cover.
William Grim