---
Reza Vali Offers
A Taste of Persia
---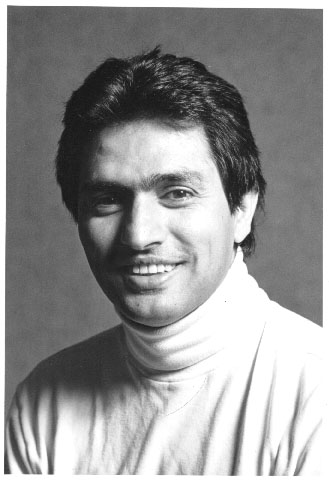 Reza Vali was born in Ghazvin, Iran in 1952 and began his studies in music at the Conservatory of Music in Teheran. In 1972 he went to Austria to study composition and music education at the Academy of Music in Vienna. He earned his Ph.D. in music theory and composition from the University of Pittsburgh in 1985. He is currently a faculty member of the school of music at Carnegie Mellon University in Pittsburgh, PA.

Vali's compositions include pieces for large orchestra, string quartet, piano and voice, electronic and computer media, and chamber ensemble. His awards include the honor prize of the Austrian Ministry of Arts and Sciences, two Andrew W. Mellon Fellowships, grants from the Pennsylvania Council on the Arts, and commissions from the Kronos Quartet, The Boston Modern Orchestra, The Seattle Chamber Players, The Pittsburgh New Music Ensemble, and The Northeastern Pennsylvania Philharmonic. In December 1991 he was selected by the Pittsburgh Cultural Trust as Outstanding Emerging Artist for which he received the Creative Achievement Award. Composer David Stock has called Reza Vali "the most brilliantly successful composer since Bartok to combine ethnic folk music and Western classical music in a unique way that is as appealing as it is original."

Vali's compositions have been performed in the United States, Europe, South America, Mexico, Hong Kong, and Australia and are recorded on the New Albion, MMC, and ABC Classics labels. His first string quartet, composed for and premiered by the Kronos Quartet, was hailed by the Los Angeles Times as "urgent, cogent and tautly dramatic."

---
ASCAP Foundation Names 2004 Morton Gould Young Composer Awards Winners
The ASCAP Foundation has announced the winners of the 2004 ASCAP Foundation Morton Gould Young Composer Awards from among 500 submissions. The winning composers share prizes of approximately $40,000.
The 2004 Morton Gould Young Composer recipients are (listed with their current residence, and places of origin):
Randall Bauer of Princeton, NJ
Kyle Blaha of Rochester, NY (Belleville, IL)
Michael Djupstrom of Ann Arbor, MI (St. Paul, MN)
Avner Dorman of New York, NY (Tel-Aviv, Israel)
Kenneth Froelich of Bloomington, IN (Chester, PA)
Judd Greenstein of New Haven, CT (NY)
Yotam Haber of New York, NY (The Netherlands
Vincent Chee-Yung Ho of Los Angeles, CA (Alberta, Canada)
Takuma Itoh of Houston, TX (Menlo Park, CA)
Vera Ivanova of Rochester, NY (Moscow, Russia)
Jonathan Keren of New York, NY (Israel)
Caroline Mallonee of Baltimore, MD (Durham, NC)
Paula Matthusen of Brooklyn, NY (Tempe, AZ)
John Mayrose of Durham, NC (Shelby, NC)
Sean McClowry of New York, NY (Rockford, IL)
Nathan Michel of Princeton, NJ (Charleston, SC)
Karola Obermueller of Cambridge, MA (Seeheim, Germany)
Daniel Ott of New York, NY (Neptune City, NJ)
Norbert Palej of New York, NY (Krakow, Poland)
Joshua Penman of Ann Arbor, MI (Brookline, MA)
Huang Ruo of New York, NY (Hainan Island, China)
Wonhee Shin of Cincinnati, OH (Seoul, Korea)
David Stovall of New Haven, CT (Fairfax, VA)
Wang Xi of Ithaca, NY (Shanghai, China)
Zhou Tian of Philadelphia, PA (Hangzhou, China)
Record companies, artists and publicists are invited to submit CDs to be considered for our Editor's Pick's of the month. Send to: Jerry Bowles, Editor, Sequenza 21, 340 W. 57th Street, 12B, New York, NY 10019

Send announcements to the Editors
Fleisher: Music In Words Leon Fleisher is king of the musical metaphors. "Listening to Fleisher talk about music is delightfully dizzying. The metaphors come in an endless flow. Play like a cat, he might say, but with sheathed claws. Play it like a Bavarian milkmaid, not like Britney Spears. Fingers shouldn't be hammers, they should be dolphin flippers. This chord change could be from a Marlene Dietrich song; croak over it." The New Yorker 04/12/04
Rocky 2 Tops Classic FM Poll (Again) For the fourth year in a row Rachmaninov's Piano Concerto No. 2 has topped Classic FM's most-loved music poll. "Its emergence - in each year so far of the new century - as the British classical listening public's favourite tune indicates Rachmaninov's position as perhaps the most popular mainstream composer of the last 70 years. Its place was secured by the votes of the commercial station's listeners." The Guardian (UK) 04/13/04
A Rossini Find Worth Finding It was 170 years between performances of Rossini's opera Ermione. Anne Midgette is aware that such long lost finds more often than not prove why they were forgotten. But "for my money, this is the best rediscovery to cross the radar in a long time. Anyone who likes 19th-century Italian opera — from Donizetti to Verdi — should see City Opera's "Ermione." The New York Times 04/13/04
Better Sport Through Mozart Forget drugs. "A strong dose of Mozart is more likely to enhance athletic performance. This is the revolutionary theory of a Greek cardiologist who, when not attending to affairs of the heart, busies himself as a composer. He recommends music as the best stimulant for sporting success and claims that a series of studies have shown that, used in combination with the right diet, 'it can act as an energy supplement in the attempt to reduce the use of pharmaceutical substances by young people involved in sport'." The Independent (UK) 04/11/04
Down On The People's Opera "It is not surprising that the latest venture from Raymond Gubbay, the man who brought opera to the Albert Hall, has attracted the sneers of the experts. Savoy opera, intended to offer (relatively) cheap, accessible productions of the classics in the West End, has been accused of undermining London's other opera companies by skimming off the easy stuff and offering less than perfect performances, with cheap labour in the form of young, largely unknown singers. It is the antithesis of what the purists, regardless of the viability of the product, appear to believe opera ought to be." The Guardian (UK) 04/16/04
Critic: Opera's Cut-Rate Ticket Plan Won't Expand Audience London's Royal Opera House's plans to offer some of its best seats for £10 is not going to widen the audience for opera, says a leading think tank. The critique suggests that "such schemes are more likely to encourage the middle class to go to the opera more often, rather than widen access." The Guardian (UK) 04/13/04
Miss Manners Vs. The Conductor's Temper In the last year alone, a conductor in Rio de Janeiro has mooned an audience which was booing the opera he was conducting, and another baton-twirler went on a 10-minute tirade against an audience in Florida for some perceived slight or other. The problem of audience behavior and musician backlash is nothing new in the music world, of course, but when conductors begin displaying their posteriors in public, someone needs to step in, and Judith Martin, better known as Miss Manners, figures it might as well be her. In fact, she's proposing a career exchange with the marauding maestros. "It is true that Miss Manners can't count terribly well, but she looks fetching in evening clothes and has some experience at terrorizing people into silence with a mere glance. How difficult can the rest of it be?" Rockdale (GA) Citizen 04/14/04
You Notice No One Seemed To Care About The Viola "An 18th-century Italian-made violin reported missing earlier this week was found in an alleyway near the Manhattan bar where its owner had left it, police said. Odin Rathnam, the first-chair violinist for the Harrisburg Symphony Orchestra, had been in New York for a meeting and left the violin, along with a borrowed viola, at Yogi's bar on the Upper West Side. The violin, valued at about $95,000, was made by Bartolomeo Calvaros of Bergamo, Italy, between 1750 and 1755; the viola belonged to a friend." A bar patron actually claims to have hocked the fiddle at a local pawn shop for $600, but doesn't have a good explanation for how it ended up back in the alley. Miami Herald (AP) 04/15/04
Today's Music: Give Me That Old Time Religion Christian music is big business now. "Sales of praise and worship albums have doubled since 2000, to about 12 million in 2003. While music sales over all slumped last year, including Christian music in general, worship music was up 5 percent. A series of CD's marketed on television by Time-Life, "Songs 4 Worship," has drawn a million subscribers and sold about 8 million CD's since 2000." The New York Times 04/17/04
A Crescendo Off A Single Piano Note? Lars Vogt is a pianist who seems to believe the impossible. "Power, he says, 'has nothing to do with the force of hitting a key. You see some pianists attack; that's what makes the sound ugly and not resonant,' he says, demonstrating with a welter of loud but indistinct notes. 'If the fingers are very close to the keys, you always have a feeling of drawing the sound out - rather than pushing the sound into the key. You can be a lot more intense in the playing while still making the piano sing.' Sit down and try to do it yourself, and you realize that much of Vogt's success comes from his head rather than his hands. He imagines the sound and wills it into being." Philadelphia Inquirer 04/18/04

Last Week's News

Creative Marketing Lifts
Naxos, Nashville Orchestra
by Greg Barns
| | |
| --- | --- |
| When my friendly CD distributor handed me a recording by the Nashville Symphony Orchestra I was immediately curious. Nashville is a place most of us in Australia, and in my case the small island | |
state of Tasmania, associate with country music, not the classical idiom. But this collection of works by that giant of 20th century American music Elliott Carter, is helping to change any perceptions of Nashville I may have had, or anyone else who buys this CD.
The Nashville Orchestra's rendition of Carter's Symphony No 1 and the Piano Concerto featuring the Blair School of Music's Mark Wait and the Orchestra's long standing conductor, Kenneth Schermerhorn is first rate. And perhaps just as importantly it's readily accessible to music lovers around the world because it's recorded by Naxos – the fast growing CD label globally. And a label that ensures its recordings are available at a fraction of the price charged by the larger more established recording companies.
The decision by the Nashville Orchestra to record Carter and to work with Naxos is both clever in marketing and creative terms. It's a prime example of what lesser known orchestras need to do to enhance their future in a world that is deluged with new creative output every day of the week.
As someone who reviews classical CDs for a daily newspaper in Australia I have a welter of material to choose from when I make my selections. I could review the umpteenth edition of Beethoven's 5th symphony or Mozart opera arias recorded by the latest young soprano being marketed by the recording companies. And occasionally I do.
But it's the CDs that expand the musical horizon or raise the profile of works, ensembles and musicians and composers that many of my readers get excited about. And the Nashville/Carter release is in that category.
To be frank if I had been presented with the Nashville Orchestra playing Beethoven's 5th I probably wouldn't notice it – why would I when say Deutsche Gramophon re-releases the great Wilhelm Furtwangler doing the same work with the Vienna Philharmonic Orchestra in 1951?
But Elliott Carter is a composer less well known to audiences in Australia. Or elsewhere for that matter. Yet his music is relatively accessible and deserves to be recorded and heard. And because it's less recorded and therefore a 'little exotic' reviewers and audiences listen to it if only out of a sense of curiosity.
By recording with the Naxos label the Nashville Symphony is ensuring its name and sound are heard around the globe. This label, established in the late 1980s by Klaus Heymann, who formerly lived in Sydney Australia, and now spends much of his time in New Zealand, is expanding when its bigger competitors are in perpetual decline. Last year the respected BBC Music Magazine in the UK reported that 43 percent of its readers name Naxos as the CD label they most frequently purchase.
The beauty of the Naxos label for orchestras such the Nashville Symphony is the world wide distribution network. Most CD retail outlets around Europe, North America, the UK and Australia have a section solely devoted to Naxos releases. It's much easier to buy the Nashville Symphony in Hobart, Tasmania because it records with Naxos than if it recorded with other more established labels. And what's more a consumer will buy Elliott Carter and the Nashville Orchestra without blinking at under $10 but would think twice about it at $30 – the price of most other classical recording labels.
By increasing its exposure outside the US through the combination of linking with Naxos and recording new or relatively unheard music, the Nashville Orchestra is building its repeat business scenario. This is what, for example, the New Zealand Symphony Orchestra has been able to do over the past decade through its association with Naxos and recordings of 20th century composers such as the German Paul Hindemith.
But it's not only the heightened awareness of Nashville's fine ensemble that emerges from the Naxos/Carter recording. It's also the broader positioning of the city. Nashville's musical reputation has been built on its place as the home of the ever popular country music idiom. Mention Nashville to most Australians and they would answer, 'country music.'
The capacity for cultural institutions such as orchestras to help add economic and cultural dimensions to a city or regions is well known. The Spanish town of Bilbao, previously just another town of 500,000 in southern Europe, is now firmly only the cultural and business map because of the Guggenheim Museum opened there in 1997.
The Nashville Orchestra's foray this year into championing 20th century American music, coupled with its link to Naxos is providing an ideal opportunity for it to showcase a different side of Nashville's creative output. It's a strategy for other orchestras struggling for funds and audiences to follow.
Previous Interviews/Profiles
Simon Rattle,
Michael Gordon,
Benjamin Lees,
Scott Lindroth,
David Felder,
Mark-Anthony Turnage,
Erkki-Sven Tüür,
John Luther Adams,
Brett Dea
n,
Judith Lang Zaimont,
Meyer Kupferman,
Evan Chambers,
Poul Ruders,
Steven R. Gerber,
Gloria Coates,
Tobias Picker
Previous Articles/
Busoni The Visionary
The Composer of the Moment: Mark-Anthony Turnage
Electronic Music
Voices: Henze at 75
Henze Meets Emenim
On Finding Kurtag
Charles Ruggles: When Men Were Men
Ballet Mécanique
The Adams Chronicles
---
Old Stuff
An Interview with Tobias Picker
Handmaid Tale's Debuts in English
Rautavaara Joins B&G
Who's Afraid of Julia Wolfe
Derek Bermel's Soul Garden
The Pianist: The Extraordinary
True Story of Wladyslaw Szpilman
John Adams' Atomic Opera
A Bridge Not Far Enough
Turnage Signs With B&H
Sophie's Wrong Choice
Copland's Mexico
On Being Arvo
Rzewski Plays Rzewski
Praising Lee Hyla
David Lang's Passing Measures